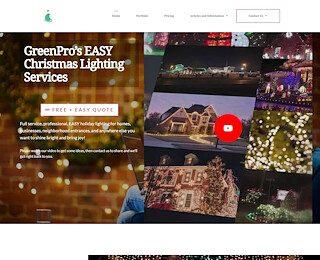 During the festive season, some commercial outlets steal the show with their decoration. They are always the cynosure of attention every evening of holiday seasons. This not only brings people to their shops, but it also affects their sales positively. You sure want your commercial space to look scenic and enthralling to onlookers and customers during the festive holiday.
You probably are thinking of having your staff handle your lighting. You may even be thinking of joining them to do it.
But why go through the stress of digging up the past year's decoration lights and wires. Why stress over hanging lights when you could dedicate that time to ensuring your customers have a better sales experience? Why risk not achieving charming light decorations for your commercial space?
Apart from the aforementioned, you are even susceptible to hazards associated with light Installation, like rooftop or wall falls, electrocution, and so on. 
You should be having a great time during the festive season and not worrying about hanging your lights or decorations. 
Getting a professional light Installation company to do your light decorations during the holidays is honestly the best way to avoid the stress and risks.
In later parts of this article, you'll see the benefits of allowing professional Christmas lights installation in your Tulsa commercial Space. We also have ready you to reach one of the most competent festive light decoration companies in Tulsa. 
Benefits of Hiring A Professional Holiday Lighting Company
Ultimate Quality Lights & Perfect Lighting Decoration Products For Your Space
A professional lighting Installation company will spare you the worry of having average lighting products used for your decorations. If you buy the lights yourself, you might end up buying substandard lights. The substandard lights may even be sold to you at a cost higher than the quality lights.
But these professional light Installation companies buy their lights directly from the best light-producing companies. So you never have to worry. The lights are so qualitative that they are reusable.
Custom Lighting Designs 
Choosing to hire a professional light Installation company means you will be able to influence how your commercial space will be lit and decorated. 
A professional lighting Installation company will reach out to you to know what your brand stands for and how best to incorporate its essence into the season's meaning. And you're up for a sensational output.
Professional Installation
Since Most professional light Installation companies work all year-round, they are usually very experienced with it. They hardly make mistakes or experience faults. 
So, save yourself the stress, and let them handle your lighting decoration seamlessly and professionally. 
 Maintenance Cover
Upon your lights getting installed, during the whole festive celebrations, there could be an unprecedented happening.
There could be an oversupply of electric voltage that might cause your bulbs to go off. A wire could somehow get broken by a staff member mistakenly. There could be a violent wind that dismantles the decorations.
A professional light Installation company has you covered in times like this. A call to them, and they'd be available to fix your lights.
Pro Unmounting and Storage
After the holiday, there'd most likely be a lot of clearing and cleaning in your commercial space.  But you need not worry about your lighting.
Professional light Installation companies, after the festive season, show up to help remove and repack your lights. They are repackaged in ways that they are brand new when you need to reuse them.
Meanwhile, you don't have to worry about storage space for your lights or your staff ruining them somehow where you store them. A professional light Installation company will help you keep them all safe. 
You surely now realize more reasons as to why you should hire a professional holiday lighting company. It saves you time, stress, unforeseen expenses and ensures you have a thrilling and aesthetic atmosphere all through the festive season. 
GreenPro is a team of Christmas lights and decoration installers in Tulsa. And in Tulsa, they provide the best Christmas decoration services. One more thing, we are available all year round. So you can reach us anytime for any event you need lighting decorations. Get a free quote. https://www.christmas-light-installation.com/contact/?quote=y
Christmas Light Installation GreenPro Lighting Services
918-779-8982
7374 W 51st St
Tulsa
OK
74107
US